Argentoratum, Argentina, Argentum, Argentaria, Argentoria, Strateburgis, Stradburgo (Strasburgensis, Straceburgensis), Straßburg (Elsaß, Alsace).
Our handwritten newsletter from Argentina, (Archivio di Stato, Florence, MdP 4170, img 6531) is not from South America.
But let's take a closer look. We learn,
"The five companies of Zurich soldiers are back, and we are advised they are not well nor well paid; nonetheless it seems certain that Zurch and Bern are negotiating to go back to sending ten fresh companies, [and] even though the Cardinal of Lorraine is well furnished with soldiers, nevertheless, to avoid damaging the Austrian lands he cannot use them where they are necessary, so he has to try to do what he can. Castle Tachstein suffers from lack of provisions, and if peace is not declared it will have to surrender.
They write that the Duke of Boulogne declares and seems to be in favor of Argentina and of preventing inasmuch as possible the effectiveness of the Imperial command."
In other words, turmoil is all around and dangers lurk at every turn.
At the time of writing, Argentina, Argentoratum, Strasbourg, or Straßburg was still a free Imperial city; a characterization that would end with Louis XIV's conquest of Alsace in 1681, beginning nearly two hundred years of French rule, followed by alternation between French and German affiliation that only ended with the Second World War and the definitive return to France (with some territories still lying across the border within Germany).
The newsletter occurs between other documents dated 1593; therefore we may make the slightly risky assumption that it was written in that year. In fact, right after the verso of our newsletter there comes another, we assume, contemporaneous, from nearby Lorraine.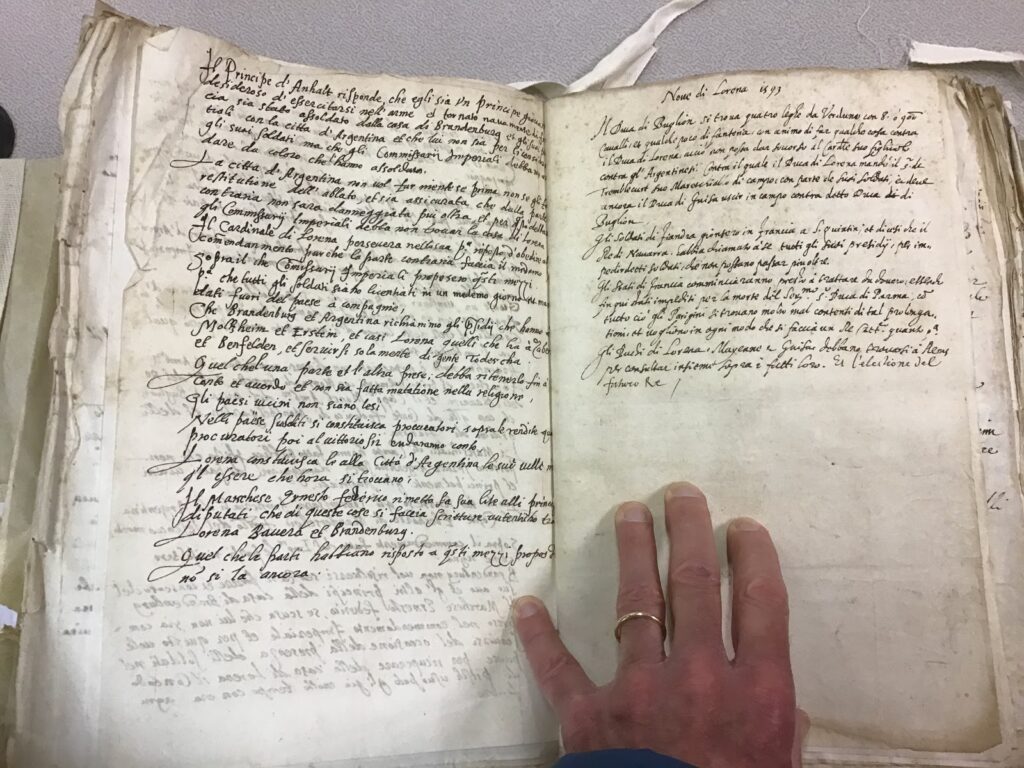 We are in the midst of the so-called Strasbourg Bishops' War (1592-1604), which placed this city momentarily at the center of sectarian conflicts in the area, as Protestants and Catholics struggled for control of the local church, with the latter eventually gaining the upper hand.
But why is a newsletter from Strasbourg so curious in this context, apart from the interesting stories narrated there?
At least partly because, if our dating is correct, just twelve years later the first printed newspaper of all times, created by Johann Carolus, would emerge from here! Alas nothing has survived from the first years of that paper except for the printer's request for privileges from the Strasbourg government. However we do have an issue from 1609, which looks like this:
(image from Universitätsbibliothek Heidelberg)
The newspaper of course is aimed at a German-speaking audience, whereas presumably the newsletter was destined for a predominantly Italian one. The format, though capable due to the technology of containing more words, appears to match that of the newsletters we have been examining in this project. Note also that news actually from Strasbourg is not mentioned here (the places of news appear instead to be Cologne, Antwerp, Rome, Vienna and Prague). A Strasbourg newsletter such as the one we have been examining would presumably be of particular interest to those outside of Strasbourg, just as, we assume, the newsletter from Antwerp that is the basis of the newspaper's story from that place, would have likewise been chiefly an export product.
Conflict very likely sparked curiosity about Strasbourg, while also generating interest among locals regarding the rapidly changing world in which events would eventually precipitate the larger struggles to come, with the Thirty Years War around the corner. And curiosity is the heart of news!
BIBLIOGRAPHY
René Bornert (1981). La réforme protestante du culte à Strasbourg au XVIe siècle (1523–1598): Approche sociologique et interprétation théologique. Leiden: Brill, 1981.
William Monter, A Bewitched Duchy: Lorraine and Its Dukes, 1477–1736. Geneva, Librairie Droz. 2007.
Johannes Weber, 'Strassburg, 1605: The Origins of the Newspaper in Europe', German History, 24/3 (2006): 387–412